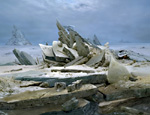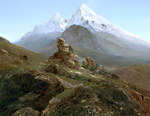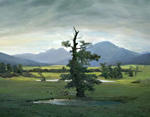 Caspar David Friedrich and J.M.W.TURNER
In this work, Masuyama engages in an exploration of passages across time, space and art history. These photomontages are made after the 19th Century painters Caspar David Friedrich (German, 1774-1840) and J.M.W. Turner (British, 1775-1851), who both traveled widely across Europe and documented their journeys in paintings. Returning to the sites that Friedrich and Turner captured over 160 years ago, before the invention of the camera, Masuyama takes several thousand photographs. With these images, he composes reproductions of the original paintings out of thousands of images, building the painterly atmosphere and light out of his contemporary photographs. The finished photomontage is mounted on a lightbox, illuminating his composite image from within.
Masuyama animates these historical, often iconic artworks with a new contemporary resonance, calling upon their shared universality while simultaneously pointing to the unique, individual lens of his own time and place.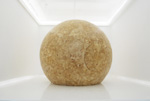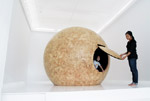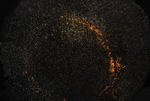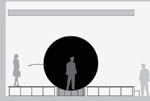 0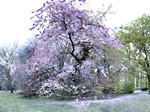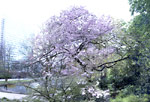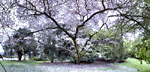 SAKURA
"Sakura" means cherry blossoms in Japanese. The cherry blossom has an important meaning and symbolism in Japanese culture, evoking the fleeting nature of time and life. Yearning for his hometown in Japan, Masuyama photographed this tree in his adopted Germany. Taking pictures from January through May, he recorded the tree from before it bloomed through to the scattering of its blossoms. From several hundred photographs he composed this single image, expressing the movement of time phtographically along with the spring awakening of the cherry blossoms.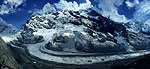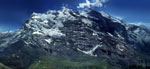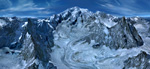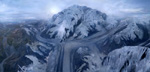 Mountain
Shooting from a helicopter or a small airplane, Masuyama took thousands of images of mountains around the world to make these composite montages. Creating these imagined mountainscapes out of his photographs, Masuyama plays with photography's potential to move between realistic representation and the subjective creation of new terrains.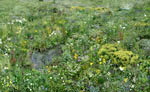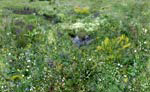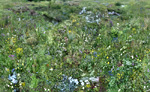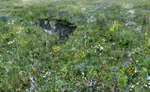 Flower
Photographing wildflowers over three years as they pass through the cyle of the four seasons, Masuyama created these composite images from thousands of individual pictures. Time and space mingle together in these natural landscapes, which use their universal subject of flowers and regeneration to suggest collective memories.




Flight
From 2002-2007, Masuyama created a body of work around the idea of airtravel and its temporalities. On various plane rides, Masuyama fixed his camera to the airplane window and took a picture every 20 seconds for the duration of his trip. With several hundred photographs, he composes a single, monumental montage of a journey. A 2003 voyage around the world resulted in photograph 44 metres long. With this project, Masuyama describes the particular movement of time and space as it is experienced in flight.



Park
In this early work, Hiroyuki Masuyama pursued his investigation into extended temporality and the movement of time contained in a single image. At the same time everyday for one year (01.04.1999-31.03.2000), Masuyama took a photograph of this park. The camera was stationed on a tripod and moved just a 1-degree angle each day. From the resulting 360 photographs, he created this single panorama image, showing the changes in the seasons, breaks in the weather, and presenting a visual memory of a place across time.



PRIVATE ROOM
This photographic work records the life and work space of Hiroyuki Masuyama, taken over six years from 1995-2001. With photographs taken by his wife and friend during visits, children's birthday parties and Christmas holidays, Masuyama collected 200-300 images of this interior. This precise composite panorama uses these intimate moments to express the memory of a person, a family and a space over a number of years.